by M. Laskarakis, 25 May 2019  (Free Press 360ᵒ  25-5-2019)
It was about three years ago, when I heard about a bunch of "IT Guys", as those who make a living by typing in the language of computers are used to say. I first met them at a Alexandroupolis greek-tavern where I got a taste of – apart from the appetizers – how much there was of people with a common denominator of information technology and technology in general, to share ideas, to exchange ideas and to transcend obstacles through communication.
The club has been steadily growing ever since, ideas and visions stacked up, until a proposal came to the table: Establishing a Association!
The Thrace Technology Association became a reality in September 2017 and quickly showed its vibrant face as a knowledge-intensive club by organizing events such as Hour of Code, Safer Internet Day and the fun Gaming – summer LAN party.
Today, members of the Board of Directors TESH answers 360 questions and reveal the importance of technology and its proper use. Because, as Susan Wojcicki, YouTube's chief executive, said, "If you can create technology, you can change the world."
The interview:
How was the idea for the association born?
Long before the association was created in 2010, a team (fb Open Meetings IT Evros) was formed with anxious tech-savvy friends to create collaborations to develop new projects or improve existing ones. With open minds and free spirit, through many meetings, the foundations for acquaintance, friendship, respect, mutual appreciation and of course the promotion of knowledge, cooperation and synergy were laid.
This was the original idea, so in early 2017, after an open call to friends and acquaintances, the discussion about the creation of a club began. On May 14, 2017, the founding of the Association was completed by the founding members, so that in September 2017 the Association officially began its operations.
What are the goals of the association ?
The association 's primary purpose is to promote science and technology in the local community. We believe that with the emergence and use of technology we can have a better future both on a personal and social level. To achieve this goal, the association aims to work with other bodies and individuals in science and technology.
STETH aspires to create a space for the exchange of experiences, opinions, information and practical advice among its members. The association wants to contribute to the production and dissemination of open source software and open data. In addition, it seeks to become an interface between the local labor market and members or friends.
Finally, through the experience of its members, the club can offer guidance and supervision services to potential future science and technology professionals.
What does the local community have to gain from the Thrace Technology Association?
Most clubs in our city are athletic, folklore or theatrical, etc.
I would say the club belongs to the category of 'knowledge-intensive' associations, where the main objective is to engage in science and technology and thus to disseminate and enhance relevant knowledge.
So someone who wants something different will probably be able to find it in our Club. We aspire to support knowledge-intensive actions, promoting and enhancing scientific and technological excellence in the local community.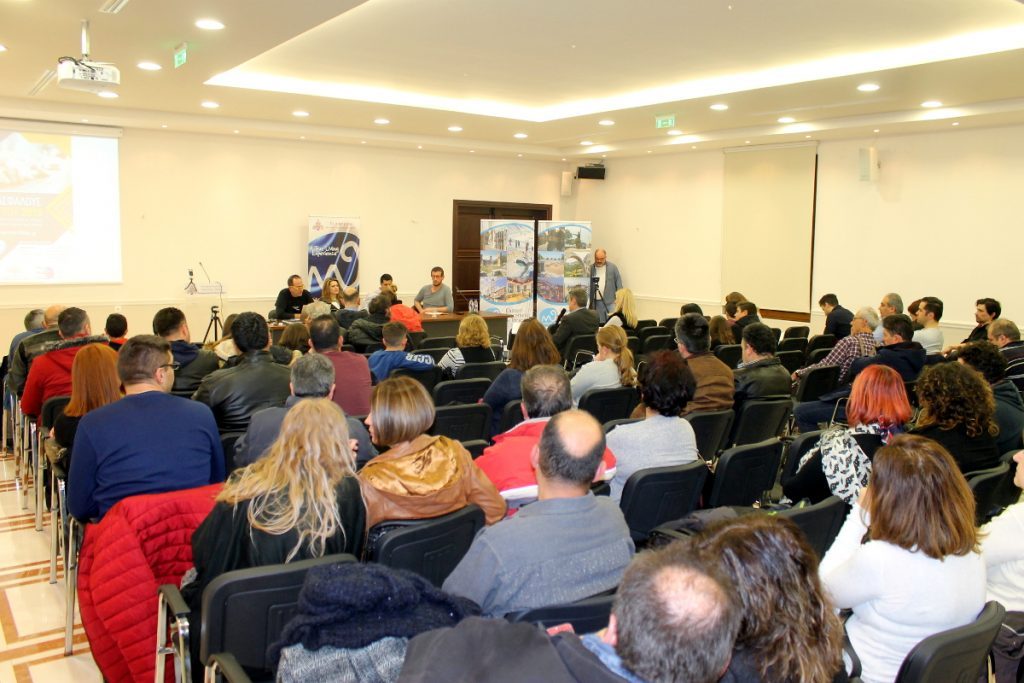 (From the Safer Internet Day (SID) 2018 event)
What have been your actions so far?
Our club annually organizes a safer internet day, an interactive open-air event where there are various lectures and discussions on internet security and demonstrations of technical solutions. We are also participating in the World Hour of Code event by organizing programming and IT activities for local youth. Every summer we organize an event for our little gaming friends (gaming – LAN party). TETH has also successfully organized python programming language learning seminars for its members – an action that will be a pilot for replication in other science and technology topics. Finally, each week at the club's premises, its members present a technological theme in a friendly environment, followed by a discussion.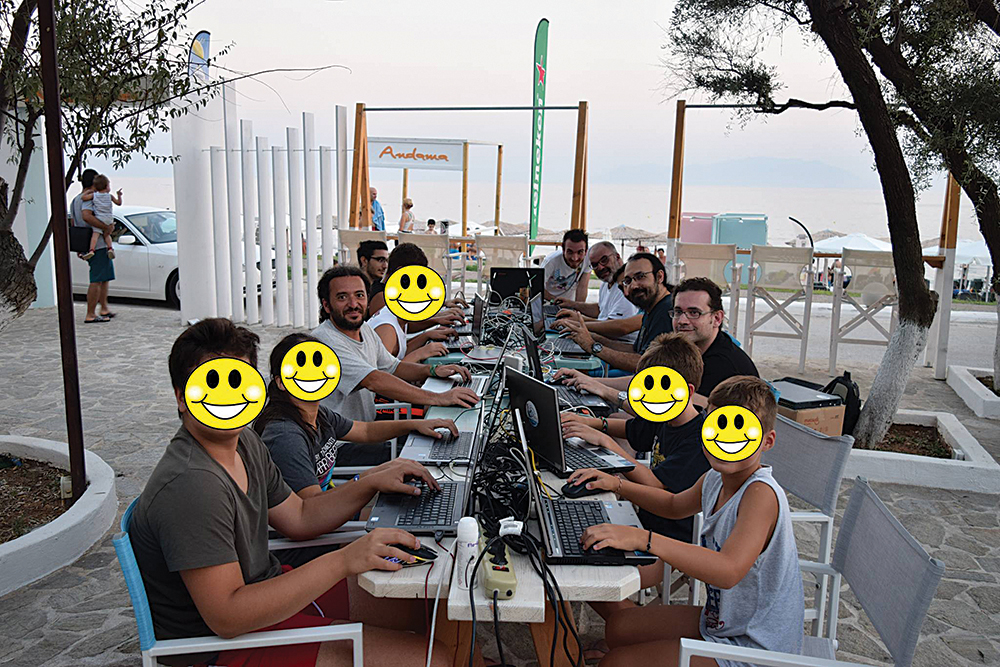 (Από την καλοκαιρινή εκδήλωση «Summer Lan Party»)
You mentioned dealing with open source. Do you have an example?
Collaboration has already been established between the members of the TETH and various projects are being developed, such as:
Environmental Monitoring Station
The environmental surveillance station is an arduino-based construction for recording environmental measurements, such as the quality of air we breathe.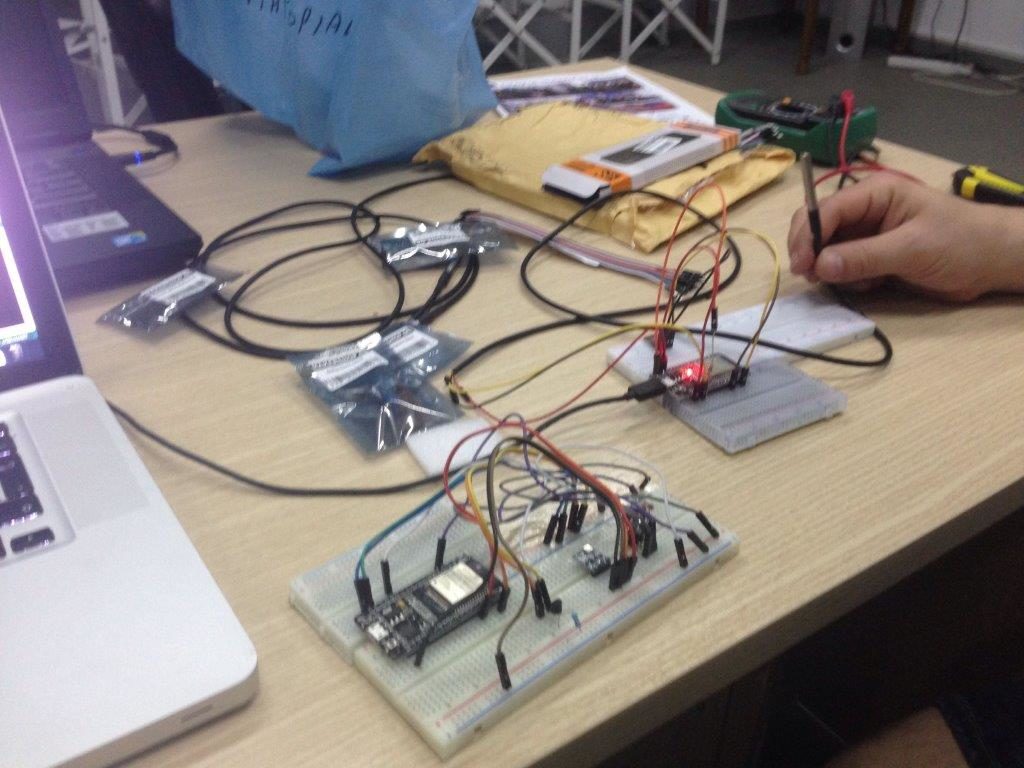 In the first version we will produce microparticle, carbon dioxide and carbon monoxide sensors and will measure noise from cars, machinery etc. It will also have temperature, humidity and atmospheric pressure sensors, as there is no useful, in the city a record of the prevailing weather conditions, because the meteorological station that exists is outside the city.
It is a multiplayer game where each player runs a tank in which he tries to target the other players. It is written in C ++, uses the SDL2 graphics library and runs on Windows, OSX, Linux as well as directly from the browser.
More information about projects, how to participate, code, on the club site.
Have any actions planned for the near future?
During this week and for 7 weeks, every Wednesday afternoon, we host hourly presentations on cyber security issues at the club's premises. Topics to be covered are: GPDR, Child and parenting, Internet shopping, Windows privacy and security, social networks, security basics, mobile phones.
We are also planning new innovative actions that are accessible to the public and of an educational and informative nature. More information will be constantly announced on our website.
What would you advise young people who love technology?
As Susan Wojcicki, YouTube's chief executive, said, "From phones to cars and medicine, technology touches all aspects of our lives. If you can create technology, you can change the world. "
The penetration of technology in all professions is evident, from agriculture, to medicine, to the construction of houses, cars, etc. So, no matter what profession they want a young person or a young person to choose, they have to deal with technology. He has to learn to plan, even at a simple level. Dealing with technology and programming makes you a different person. First of all, it teaches you to think.
Many years ago we considered illiterate someone who did not know how to read and write. Now, the illiterate will be considered someone who does not know programming.
How can technology help run a business?
The use of technology today is now indispensable in any business for reasons of competitiveness. It is technology that contributes decisively to the proper management of goods and services. The use of appropriate software and technology tools ensures reduced costs, reduced working time, higher returns, wider and more direct advertising, openings to foreign markets and easy expansion of the customer base.
The Thrace Technology Association is at your disposal for information on the introduction of technological tools and tools into your business.
Where can one visit the club and what will it meet?
Our club is housed in an area allocated by the Municipality of Alexandroupolis opposite Fotis Kosmas Stadium, next to the social clinic.
The visitor will find a pleasant, technology-friendly space where our members can devote themselves to programming, IoT devices, electronics and telecommunications. The site is used for meetings, presentations, educational activities and collaborations on the joint development of software and other technological solutions.
Contact information on our website: www.techthrace.com